Vent Works Has Just Introduced A 6 Inch Window Vent!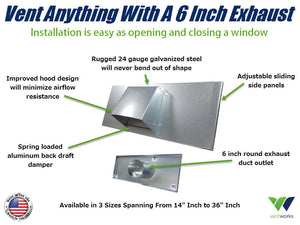 Since releasing our original window dryer vent we have received consistent feedback asking for a 6 inch version. As a company that prides itself on listening to our customers, we want you to know that we've heard you. This new 6 inch vent provides options for venting larger size exhaust, including kitchen and bathroom exhaust fans, range hoods, microwave vents, dryer exhaust, and laser engraving machines, that many of our customers have been looking for. It really can be used to vent anything with a 6 inch exhaust out of a window.  
This vent is made using the same heavy duty 24 gauge galvanized steel as our original vent, it fits windows from 14 inch to 36 inch over 3 different sizes, and includes a back draft damper and enlarged exterior hood for low air flow resistance.
"I've been waiting for the 6 inch window vent, it will work perfectly for my laser cutter!" Henry H.
Our new 6 inch window vent is currently available directly through Vent Works for $74.99.  
Want to learn more? More information can be found here: 6 Inch Window Vent